Whether you purchase by the piece or by the pallet, Everest Linens delivers affordable, custom-fitted bedding for a better night's rest, every night. As a highly customer-centric, family-owned business that fabricates and markets a full line of feature-rich linens, Everest enables individuals and organizations to achieve more comfortable and consistent, restful sleep, either for their own personal use or for their guests, residents or other customers.
---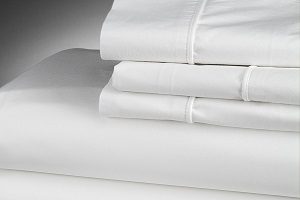 SHEETS: Let's face it – great sheets truly do make the mattress! For over 30 years, our customized manufacturing process has enabled us to create sheets that not only feel great, each set is individually tailored according to the mattress dimensions the customer provides, ensuring a perfect fit every time. Beyond the customized fit, we go to great lengths to ensure that our products are sewn with the fabrics, elastics and other features that collectively create the uncompromising look, fit and feel our customers expect.
Our wide range of luxurious fabrics and finishes offers something for every taste and preference. Whether you prefer a soft, crisp, cool or warm feel, or simply want resiliency and long-lasting durability wash after wash, Everest Linens products make the customer feel like their sheets were custom made just for them. In fact, most products are made to order based on each customer's specific size, fabric and feature specifications—at no extra charge.
Our sheets are available in a wide range of fabric styles, thread counts, colors and finishes. Unless specified otherwise, all Everest sheets are manufactured in the USA, and most are made to order.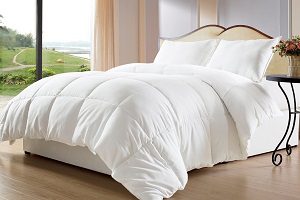 DUVET COVERS: Tailored to fit any size bed and available in a wide assortment of luxurious fabrics, our duvet covers are made to order and include zippered or hidden button enclosures and interior ties to keep your comforter snugly secured in place.
Whether you choose a solid color or one of our elegant tone-on-tone stripe fabrics, an Everest duvet cover is sure to add elegance and comfort to any bedroom.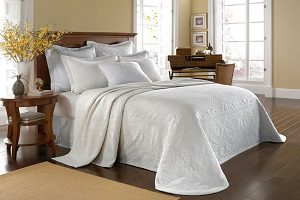 BEDSPREADS AND COVERLETS: Our coverlets and bedspreads are available in a wide variety of styles and weights, each tailored according to the functionality and design specifications provided by the customer. In addition to our single-sided styles, we also offer reversible designs which provide greater flexibility in bedroom décor.
Most bedspreads are quilted, made of designer fabric or premium designer prints, and quilted with a high quality bonded polyester fill (the fill weight can be specified by the customer). Available with white cotton backing or customized with any fabric on the reverse. Other available features include a reverse pillow sham sewn in at the head of the bed and choice of corner treatment (split, pleated or boxed).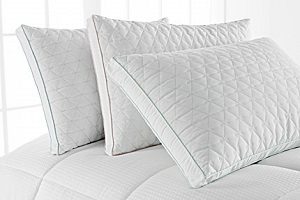 PILLOWS AND PILLOW PROTECTORS: Whether you are purchasing for your personal use at home or for a hotel, spa, healthcare facility or other place of business, Everest Linens carries a wide variety of pillows and pillow protectors to fit every need.
Pillows are available in Standard, Queen and King sizes in a variety of fills and weights. Custom sizes are also available.
Pillow protectors are available in a T-180 poly cotton ticking (an inexpensive washable pillow cover popular with the hospitality industry) or in a waterproof terrycloth with a polyurethane film backing for complete waterproof and dust mite protection. Both styles of pillow protector come with a rust-proof nylon zipper closure.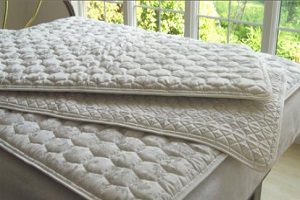 MATTRESS PADS AND PROTECTORS: For over 30 years, consumers and professional buyers alike have relied on Everest Linens for high quality, custom-made mattress pads and protectors. We offer a number of different styles and grades of mattress pads, each designed to protect the mattress while providing enhanced sleeping comfort.
From our economy grade felt pads to our ultra-plush 100% cotton quilted 5-sided mattress pad, we offer something for every taste, budget and application. Our Vinyl Core Waterproof pad is popular in medical facilities and for use with small children or others who need an impermeable moisture barrier designed to keep the mattress dry under most any circumstance.
Our CottonGuard mattress protector is a lighter-weight waterproof pad that balances comfort against protection, offering a noise-free and undetectable moisture-proof and dust mite barrier without sacrificing comfort or quality of sleep.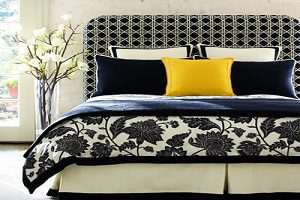 SPECIALTY BEDDING: As a full-service cut-and-sew operation with a dedicated team of talented sewing professionals and a broad selection of fabrics at our disposal, if you can dream of it, we can sew it! In fact, you can even send us your own fabrics (referred to as Customers Own Materials, or COM) and we'll do the sewing for you.
Whether you are buying for one bed or a thousand, if you need a bed scarf to dress you bed, or bed skirts, pillow shams, box spring cover or anything else for top of bed, Everest Linens is your single source for all your bedding needs. Why buy off-the-shelf products when you can enjoy the luxury of affordable, custom-made bedding for your home or business?